By Catherine Watts
It doesn't matter if you're just starting your career as a photographer, or if you've been following your artistic passion for years. You should always be learning something new. In that case, we have our top educational photography books to look for. By and large, you'll surely learn a lot.
Reading is one of the best ways for an artist to learn or to expand skills. Furthermore, tt is the best starting point to open a new world to your creativity. Hence, we have come up with a list of the best books. The following will surely add more knowledge about taking pictures.
Must-Read Photography Books that Every Photographer Should Own
Mastering Aperture, Shutter Speed, ISO and Exposure is the #1 photography reference book for most of 2014, 2015, 2016, 2017 and 2018. This book is the key to photographic excellence.
Without a guide on your path to better pictures, you run the risk of spending a great deal of time and money. Also, frustration and confusion can easily take the wind from your sail. It replaces excitement with disappointment.
This guide to EXPOSURE builds a solid foundation of photographic knowledge. Uniquely, it contains easy-to-follow discussions of everything that you need to know. This guide will help you create better images with confidence.
On the whole, every photographic term used in the book is clearly defined and thoroughly explained. Furthermore, all terms are also highlighted by using BOLD CAPS. By the time you finish reading this book, you will be well on your way to Mastering Aperture, Shutter Speed, ISO, and Exposure.

Need to know which digital camera to buy? Want to take better photographs and retouch images? Ready to achieve professional results?
This updated edition of The Digital Photography Handbook will allow you to make the most of all the advantages a camera has to offer. It also guides you through the latest software that will give you the best results.
This book includes expert advice on:
the art of photography
composition
depth of field
how to photograph a variety of subjects
Aside from that, it also features:
editing and image manipulation software
how to print your images for the best results
developing a portfolio
mastering the rules of copyright
Doug Harman includes the very latest developments in digital technology. By and large, this can help equip you with everything you need to become a photographer.
Contents include:
Types of camera
Computers and software
Memory
Pixels and magnification
Saving images
Exposure
Composition
Light
Camera modes
Special effects
Manipulating images
Photo apps
Retouching old photos
Printing digital images
Selecting printers and paper
Archiving and the cloud
Making money from your images
Copyright rules and more.
Which lens should I buy for my camera?
That sounds like a simple question. However, in reality, choosing the right lens is actually one of the most important photographic decisions to make. Nothing affects the quality of a photo more than the lens. It's no longer just about the megapixels. As can be seen, it's the glass that makes all the difference!
For the most part, many first-time buyers of DSLRs ignore the basic lens included in the box. In a word, some are reluctant to spend more money. Others are confused by all the choices out there. It's really a shame! Generally speaking, interchangeable lenses give you amazing scope for quality photography.
To capture vast breathtaking scenes, use a wide angle lens. Then, capture faraway birds with a telephoto lens. Examine the tiniest detail of a flower with a macro lens. Record the perfect portrait with a prime lens. Again, anything is possible when you choose the right lens for the job!
This book isn't a simple catalog of available lenses. In the first place, new products are coming out all the time. To sum up, comparing specific lenses can be difficult. Author N.K. Guy gives you all the information you need to make smart buying decisions. Correspondingly, optical technology is demystified, arcane terminology is decoded, and practical tips are provided.
The Lens will help you build the perfect lens collection to suit your needs now and in the future.
This newly revised edition of Bryan Peterson's most popular book demystifies the complex concepts of exposure in photography. Therefore, it can be the best guide for readers to capture the images they want.
Understanding Exposure has taught generations of photographers on how to take photos they want. It happens by showing up the complex concepts of exposure in photography.
In this newly updated edition, veteran photographer Bryan Peterson explains the fundamentals of:
-light
-aperture
-shutter speed
-how they interact with and influence one another.
This book emphasizes finding the right exposure even in tricky situations for taking photos. Also, it shows you how to get (or lose) sharpness and contrast in images as well as freeze action, and how to take the best meter readings.
There are all new images, as well as an expanded section on flash, tips for using colored gels, and advice on shooting star trails. All things considered, this revised edition will clarify exposure for photographers of all levels.
This boxed set consists of The Digital Photography Book, volume 1 and The Digital Photography Book, volume 2. Comparatively, it is the ultimate resource for anyone who wants to shoot dramatically better-looking, more professional-looking photos every time.
Scott Kelby, he's the man who changed the "digital darkroom" forever with his ground-breaking, bestselling The Photoshop Book for Digital Photographers. To sum up, it tackles the most important side of digital photography. If you're asking, "How to take professional-quality shots using the same tricks today's top digital pros use?" To say nothing of, you'll be surprised that it is easier than you think.
These aren't books of theory, full of confusing jargon and detailed concepts. All things considered, these are books that tackle which button to push, which setting to use, and when to use it. Each page covers a single concept on how to make your photography better. Additionally, you can learn another pro setting, tool, or trick to transform your work from snapshots into gallery prints by reading this book.
If you're tired of shots that look "okay," thinking, "Why don't my shots look like that?", then these are the books for you.
The Landscape Photography Handbook is an installment in the Photography Essentials Series. This guide to landscape photographs is designed to cover multiple topics that will help you shoot better.
In any event, this Handbook will take you through the
topics of composition
how to shoot various types of a landscape photograph
different tools to use for your landscape photography
landscape photography gear
how to plan a shoot
Implementing the lessons covered in The Landscape Photography Handbook will help you take better-composed landscape photographs. It can help improve your photography portfolio.
This book is a tutorial that goes beyond the quick tips and gimmicky effects of most digital photography books.
Author Katrin Eismann is also an artist and a gifted educator. She offers high-profile work, including her own, as examples for teaching photographers. Similarly, Katrin focuses on how to use the digital medium to create, edit, and output images that reflect their true vision.
Co-authored by photographer and teacher Sean Duggan, The Creative Digital Darkroom translates skills, concepts, and nomenclature of the traditional darkroom into digital solutions for photographers. The newness of technology is surely creeping in these days. After all, there are still books that remain as a timeless method for learning and practicing photography the right way.
This is not a Photoshop book per section. But it does focus on the photographic aspects of Photoshop. Something other books claim to do but rarely have the discipline to accomplish. The Creative Digital Darkroom includes:
Four sections that cover the black & white darkroom, the color darkroom, creative techniques, and production essentials.
Chapters that begin with a thorough foundation followed by numerous tutorial examples that apply the theory to real-world examples.
Examples and a layout that enables readers to find, understand and apply the featured techniques quickly and easily.
The authors are both renowned photographers and Photoshop experts.
Clearly, The Creative Digital Darkroom is not your typical digital photography "how to" book. For the most part, it's ideal for intermediate and advanced photographers. Artists and educators looking for clear, concise, insightful, and inspiring information are also included. Indeed, this book appealed immediately to serious students and professionals. The original tutorial images and high-profile work will make the book an important visual resource for educators and art appreciators.
With this guidebook, photographers learn how to create stunning, professional images. Similarly, they can also avoid the common pitfalls of using an on-camera flash. It talks about the techniques in using simple accessories such as bounce cards and diffusers. Furthermore, it discusses how to improve a lighting scenario by enhancing it rather than overwhelming it.
When it comes to photography, it's all about the light.
Joe McNally worked for National Geographic, Time, Life, and Sports Illustrated.  With 30 years of experience, McNally knows about light. He knows how to talk about it, shape it, color it, control it, and direct it. As a matter of fact, he knows how to create it using small hot shoe flashes.
In The Hot Shoe Diaries, Joe brings you behind the scenes. He wants to candidly share his lighting solutions for a ton of great images. Using Nikon Speedlights, Joe lets you in on his uncensored thought process—often funny. Sometimes serious, always fascinating—to demonstrate how he makes his pictures with these small flashes. Thus, he's photographing a gymnast on the Great Wall! Joe uses these flashes to create great light that makes his pictures sing.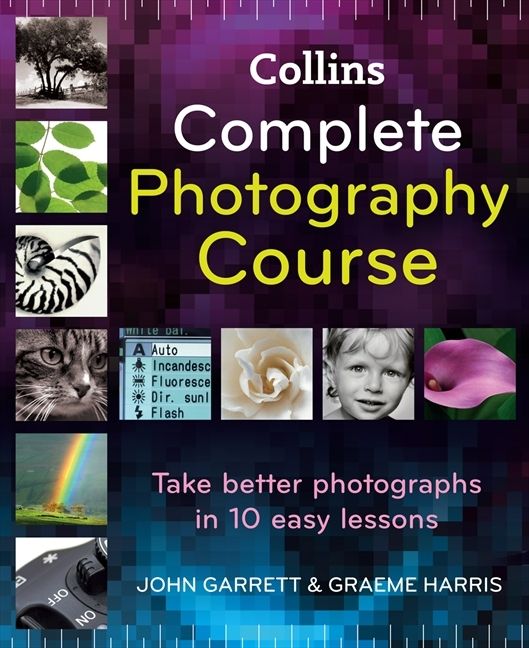 A practical, affordable and accessible home photography tutor. This inspiring project-based course book covers everything from basic composition to the latest digital darkroom techniques.
Learn at your own pace as this practical, comprehensive course helps you develop your key photographic techniques. Contents include:
step-by-step projects on exposure
aperture
lenses
light
filters
color
black and white
image enhancement.
Also, it includes professional secrets and stunning shots from around the world.
Given these points, the fully interactive and project-based approach of Collins Complete Photography Course will help you to raise both your camera confidence and your level of photography.
Originally published in 1994 and first revised in 2010, The Art of Photography has sold well over 100,000 copies. It has firmly established itself as the most readable, understandable, and complete textbook on photography. Featuring nearly 200 beautiful photographs in both black-and-white and color as well as numerous charts, graphs, and table.
Without talking down to anyone or talking over anyone's head, renowned photographer, teacher, and author Bruce Barnbaum presents how-to techniques for both traditional and digital approaches.
In this newest edition of the book, Barnbaum has included many new images. He completely revised the text, with a particular focus on two crucial chapters covering digital photography. Barbaum revised a chapter covering the digital zone system and includes a brand-new chapter on image adjustments using digital tools.
There is also a new chapter discussing the concepts of "art versus technique" and "traditional versus digital" approaches to photography. Throughout the book, Barnbaum goes well beyond the technical, as he delves deeply into the philosophical, expressive, and creative aspects of photography so often avoided in other books.
Barnbaum is recognized as one of the world's finest landscape and architectural photographers. For decades, he has been considered one of the best instructors in the field of photography. This latest incarnation of his textbook―which has evolved, grown, and been refined over the past 45 years―will prove to be an invaluable photographic reference for years to come. It is truly the resource of choice for the thinking photographer.
Topics include:
Elements of Composition
Visualization
Light and Color
Filters
Black-and-White
The Digital Zone System
The Zone System for Film
Printing and Presentation
Exploding Photographic Myths
Artistic Integrity
Realism, Abstraction, and Art
Creativity and Intuition
A Personal Philosophy
Revised and thoroughly updated, this practical guide to photographing people is better than ever!
What is the color of skin? You may think you know until you enter the world of digital photography and try to reproduce what you see. Differences in software, lighting, computer calibration—everything has an impact on color. And that's all before you get into differences between people in terms of skin types, ethnicities, age, gender, and more! Hollywood-based photo-illustrator Lee Varis guides you step-by-step through the maze.
This new edition covers the very newest trends and techniques in manipulating photos. It is a book that offers plenty of tips, examples, and valuable advice from the author's own professional experience in the field.
Shows you how to digitally capture all skin types: male, female, young, old, different skin tones and ethnicities, with makeup or without, wrinkled, tattooed, and more.
Covers a wealth of topics in addition to photo editing, such as how to obtain model releases and compose shots, how to shoot groups, and how to create promotional headshots
Incorporates the latest on working with Photoshop and Lightroom
Showcases exceptional work from a variety of photographers and artists
Bryan Peterson's classic guide to creativity helps photographers visualize their work, in a whole new light by developing their photographic vision.
Fully revised with all new photography, this best-selling guide takes a radical approach to creativity. Using inventive photos from his own stunning portfolio, author and veteran photographer Bryan Peterson deconstructs creativity for photographers. He detailed the basic techniques that go into not only taking a particular photo but also provides insights on how to improve upon it. Helping readers avoid the visual pitfalls and technical dead ends that can lead to dull, uninventive photographs.
This revised edition features a complete section on color as a design element and all new photographs to illustrate Peterson's points. Learning to See Creatively is the definitive reference for any photographer looking for a fresh perspective on their work.
Adobe Photoshop Lightroom was designed from the ground up with digital photographers in mind. It offers powerful editing features in a streamlined interface. Photographers are able to import, sort, and organize images.
This completely updated bestseller, The Adobe Photoshop Lightroom 3 Book, was also written with photographers in mind. Author Martin Evening describes features in Lightroom 3 in detail from a photographer's perspective. As an established commercial and fashion photographer, Martin knows firsthand what photographers need for an efficient workflow.
He has also been working with Lightroom from the beginning, monitoring the product's development and providing valued feedback to Adobe. As a result, Martin knows the software inside and out. From image selection to image editing to image management.
In this book you'll learn how to:
-Work efficiently with images shot in the raw or JPEG format
-Import photographs with ease and sorts them according to your workflow
-Create and manage a personal image library
-Apply tonal adjustments to multiple images quickly
-Integrate Lightroom with Adobe Photoshop
-Export images for print or Web as digital contact sheets or personal portfolios
-Make the most of the new features in Lightroom 3, such as automatic lens correction and improved noise reduction
In his sixth book, renowned photographer, popular instructor, and best-selling author Bryan Peterson challenges us. Additionally, he inspires us to see close-up photography in new ways when we view it through his eyes. You've seen the dewdrops, but what about dewdrops on a bird's wing or raindrops on a car windshield? You've seen the bumblebees on vibrant flowers, but what about the fluid edge of just one petal? Even when Peterson does capture the more traditional subjects, it's done in untraditional ways and often with minimal specialized equipment! Overall, he moves beyond the commonplace to inspire new ways of getting close, using your lenses, and discovering unconventional subjects.
Design is the single most important factor in creating a successful photograph. The ability to see the potential for a strong picture and then organize the graphic elements into an effective, compelling composition has always been one of the key skills in making photographs.
Digital photography has brought a new, exciting aspect to design. First, because the instant feedback from a digital camera allows for immediate appraisal and improvement. Second, because image-editing tools make it possible to alter and enhance the design after the shutter has been pressed. Uniquely, this has had a profound effect on the way digital photographers take pictures.
Now published in sixteen languages, The Photographer's Eye continues to speak to photographers everywhere. It has reached 100,000 copies in print in the US alone, and 300,000+ worldwide. Furthermore, it shows how anyone can develop the ability to see and shoot great digital photographs. The book explores all the traditional approaches to composition and design.
Crucially, it also addresses the new digital technique of shooting in the knowledge that a picture will later be manipulated to result in a final image that may be very different from the one seen in the viewfinder.
Features
Covers both traditional in-camera composition and the new opportunities for picture-making made possible by digital imaging editing.
Shows how to explore situations and locations in order to find the best possible photographic possibilities.
Uses clear examples from real photographic assignments, with schematic illustrations of how and why the pictures work.
Here's another great read by Michael Freeman.
Having already taught you how to compose and interpret great photos, Michael Freeman now continues his best-selling series. Furthermore, he follows up by exploring the most successful methods for presenting photography meaningfully and in an engaging format.
Is this critical? What makes viewers not be interested in a photo? What separates the viewer from captivating gallery collections? Tapping into his decades of experience shooting for such publications as Smithsonian, GEO, and Condé Nast Traveller (among many others), Michael Freeman studies the photo-essay phenomenon that took the world by storm. To say nothing of, it gave storytellers a completely new set of tools to construct their narratives.
Freeman established how rhythm, pacing, and careful organization build tension and cultivate interest. Furthermore, he goes on to explain what this means for presenting your own photos. He's more particular in the new digital formats of online galleries, slideshows, and tablets. In any event, the Photographer's Story will enliven your images and refresh your perspective. Also, it can elevate your understanding of how photographs work together to tell a story. Your audiences will thank you for it.
A superb hand-on manual containing a wealth of underwater tips, hints, and advice – all beautifully illustrated with brand new, full-color images.
Martin Edge is a leading authority on underwater photography. He will help you capture stunning effects using his popular 'think and consider' system. It offers a heightened awareness and understanding of the subject matter. Also, it tackles lighting and environment to take the perfect picture. Furthermore, there are practical examples that will take you step-by-step through the basic techniques. Among these are photographing shipwrecks, divers, marine life and abstract images to taking photographs at night and 'dual lighting'.
In 1999 the late Jim Church, the guru of underwater photography, said: 'As a member of the new generation of underwater photography writers, [Martin has] set a standard that will only be surpassed when [he writes] a third edition.
Here it is, we hope you enjoy it.
Learn 'how that shot was taken' with practical case studies
Beautifully illustrated throughout with inspirational full-color underwater images
Covers the highly respected philosophy of the 'Think & Consider' System
This provocative, visually stunning volume draws upon Taoist teachings. In the same fashion, it tackles how to explore the creative and spiritual dimensions of the art of photography. Excerpts from the Taoist classic the Chuang-tzu and the writings of Western aesthetes are complemented by over 60 photographs. They came from the work of such canonical photographers as Henri Cartier-Bresson, Alfred Stieglitz, and Dorothea Lange. Furthermore, there is a Lucid instructional text and enlightening exercises. Correspondingly, they assure that photographers of all levels will be able to incorporate the lessons of the Tao into their own work.
Stunning Digital Photography is much more than a book. Generally speaking, it's a hands-on, self-paced photography class with over 14 hours of online training videos. There is free help from the author and other readers as well. As has been noted, it is why award-winning author and photographer Tony Northrup's book is the #1 photography book with over 250,000 readers.
This book gives you five innovations no other book offers:
1) Free video training. Watch over 12 hours of fast-paced, hands-on video tutorials integrated into the book to support and reinforce the lessons. For the most part, you can view the videos using any web browser or by scanning QR codes with your smartphone.
2) Hands-on practices. Complete the practices at the end of every chapter to get the real world experience you need.
3) Practice quizzes. At the end of Chapters 2-13, you have the option to take an online quiz. You can apply what you learned in the chapter. Also, make sure you didn't miss anything important.
4) Classroom support. Join an author led a private community of supportive, helpful people who also want to improve their photography.
5) Free ebook with lifetime updates. When you buy the book and join the private Stunning Digital Photography readers community, you can download the ebook.  Then, you can copy it to your smartphone or e-reader for easy reference. Overall, the ebook is regularly updated with new content and videos so it never becomes outdated.
In this book, beginner photographers will master:
* Using composition to take great photos with any camera
* Adjusting exposure to control the brightness of your photos
* Setting your shutter speed to freeze action or blur motion
* Controlling your aperture to blur or focus the background
* Setting your ISO for bright and dark environments
* Finding beautiful natural light for landscapes and portraits
* Using flash without the ugly effects
* Troubleshooting blurry, dark, and bad pictures
* Taking great pictures of pets
* Wildlife photography (mammals, birds, insects, fish, and more)
* Taking pictures at night, including fireworks, stars, and meteors
* Photographing sunrises, sunsets, landscapes, cityscapes, flowers, forests, waterfalls, rivers, fireworks, and more
Advanced photographers can skip forward to learn the pro's secrets for:
* Posing men and women, with checklists
* Taking candid, casual, formal, and underwater portraits
* Using RAW files
* Using HDR to overcome lighting challenges or create art
* Macro/close-up photography
* Using diffusers, reflectors, and other light modifiers
* Remotely triggering multiple flashes for inexpensive studio lighting
* Building a permanent studio in your home
* Using studio lighting on any budget
* Shooting your first wedding
* High-speed photography
* Location scouting/finding the best spots and times
* Planning shoots around the sun and moon
* Creating star trails using two techniques: long exposure and image stacking
* Light painting
* Eliminating noise
* Focus stacking for infinite depth-of-field
* Underwater photography
* Getting close to wildlife
* Using electronic shutter triggers
The world is full of breathtaking images, just waiting to be captured. As can be seen, it goes from soaring views of architecture to photos of nature's many splendors. In brief, How to Photograph Everything is the gorgeous guide to creating these images and more.
Moreover, it provides photographers of all levels with vital gear advice. It is coupled with cutting-edge technical guidance and brilliant image-editing tips from the experts at Popular Photography. Furthermore, hundreds of dazzling, inspired images reveal what's possible when you harness the power of your camera and the creativity of your mind.
In summary, there are 40+ chapters on subjects such as fashion, floral, concert, photojournalism, and aerial photography. On the whole, How to Photograph Everything helps you approach every subject on your bucket list. Indeed, this book will translate your vision into beautifully composed, technically sound images. Furthermore, you'll feel that you want to share them again and again.
[mc4wp_form id="1272″]